MEDIA RELEASE
ONG YE KUNG LAUNCHES
"INSTANT COMFORT: A COLLECTIVE MEMORY"
Book raises $600,000 for charity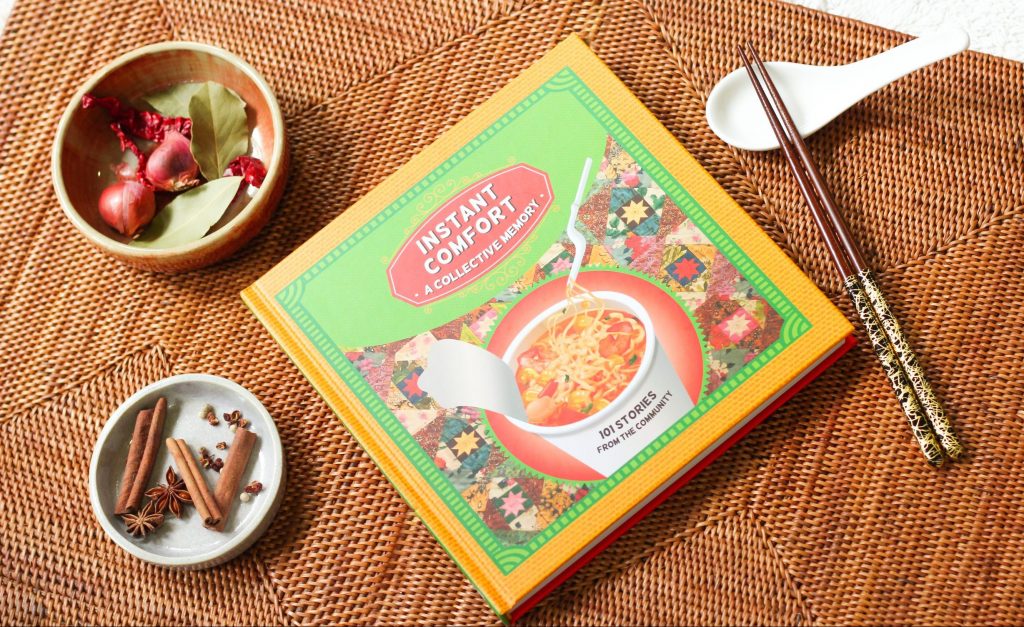 A book project featuring more than 100 stories on fond memories of instant noodles has brought people together for a good cause. Minister for Health Ong Ye Kung will be the guest-ofhonour at an event to launch the book on 17 August at 5.30 pm at Raffles Hotel.
Titled Instant Comfort: A Collective Memory and published by not-for-profit arts organisation TRCL, the 236-page book features heart-warming stories from the community.
Says Mr Colin Goh, Chief Executive Officer of TRCL: "We all know that the new normal has driven the creative industry and charity sector to pivot from in-person fundraising events and performances to less traditional ways of generating revenue and donations to serve audiences and beneficiaries.
"As a charity arts organisation, we do not, as it is said, 'waste a crisis.' We see it as an opportunity to think out-of-the-box on how we embody the can-do spirit while relentlessly pursuing our vision to be a positive impact on the community through the arts."
The idea of the book was inspired by an observation from the TRCL team on panic-buying that occurred during the Circuit Breaker last year. Instant noodles were one of the top three grocery items that flew off supermarket shelves.
Adds Mr Goh: "We realised that the snack could become a common denominator that attracts and binds peoples from all walks of life. Thus, the idea of a book that could bring the community together arose, serving as a repository of sorts for the community to share a memory, a moment from their lives. In the current situation we also felt that such a book would make an appropriate occasion to raise funds for our deserving causes."
Instant Comfort includes stories from corporate chieftains, healthcare workers, students, national servicemen, artistes, foreign domestic workers, retirees, community organisation members, professionals, young and old. The book includes accounts by Speaker of Parliament Tan Chuan-Jin, Minister for Health Ong Ye Kung, artiste and creative director Kit Chan, blogger mrbrown, former Olympic swimmer Oon Jin Teik, celebrity chef Eric Neo, William Wan of the Kindness Movement, Phillip Tan, Chairman of Community Chest, Lee Chee Koon, Group CEO of CapitaLand, to name but a few.
The 101 stories are at once heart-warming, humorous and life-affirming with this snack as a talking point.
Says Mr Alvin Tay, Deputy Chairman of TRCL and Advisor to the BT BAF: "The book is the creative output of a charity arts organisation which has seized the opportunity to engage diverse communities in a meaningful manner. Instant Comfort: A Collective Memory has brought the community together at a time when morale is tested, and visibility is not as clear as we wish it to be. The human spirit is resilient in challenging times and we are constantly finding a myriad of ways to stay resourceful and cheerful."
Funds Raised for Charity
Instant Comfort: A Collective Memory has raised $600,000 for two children's charities – The Business Times Budding Artists Fund (BT BAF) and The Straits Times School Pocket Money Fund (STSPMF). We are grateful for the support and generosity of our donors including Lee Foundation, Sea Limited, CapitaLand Hope Foundation, FairPrice Foundation, Mind the Gap 200
Fund, Perennial Holdings and The Hour Glass. Our venue sponsor is Raffles Hotel Singapore.
WHERE TO BUY
Price of Book: $25 (inclusive of GST)
Launch Day Special on 17 August
On the launch day from 5.30pm, the book can be purchased at Raffles Boutique, the Raffles Hotel Singapore. Only for this evening, each book will come with a specially-designed bookmark (limited quantity, while stocks last) created by the beneficiaries of BT BAF. The book will be on sale at Raffles Boutique till 24 August.
From 18 August
Online Platforms
• eCapitaMall
• KrisShop Cares
• TRCL website
• Shopee will have a special promotion of the book in September
Physical Outlets
• 10 Square in Orchard Central, 181 Orchard Road, #10-01, Singapore 238896
• The Little Arts Academy, 930 Yishun Ave 2, Northpoint City, #03-38, North Wing, Singapore 769098
We'd like to thank the Raffles Boutique and our e-commerce platform partners eCapitaMall, KrisShop and Shopee for helping us promote the book to the community.
LAUNCH PROGRAMME
Instant Comfort: A Collective Memory
5.30pm, Tuesday, 17 August 2021
The Lawn, Raffles Hotel Singapore
Guest-of-Honour: Mr Ong Ye Kung, Minister for Health
Welcome by Mr Wong Wei Kong, Board Member of TRCL*
Brief Comment about the Book by Ms Siow Yu-Ming, Co-Editor of the book*
Remarks by Guest-of-Honour
Book Launch
Token of Appreciation to Major Donors
Cheque Presentation & Token of Appreciation to Guest of Honour
Thank You Remarks by Ms Shanna Ng, story contributor to the book*
GOH departs
*Speeches of Mr Wong, Ms Siow and Ms Ng can be found at https://bit.ly/BookLaunchSpeeches.
Contact
Yu-Ming Siow
TRCL
yumingsiow@trcl.sg
9641 5608
The Business Times Budding Artists Fund (BT BAF)
Initiated in 2004 and adopted by The Business Times in 2005, The Business Times Budding Artists Fund (BT BAF) originated from a conviction that no child with a strong interest and potential in the arts should be denied the opportunity to develop his or her talents due to a lack of financial resources. Since 2005, BT BAF has reached out to more than 20,000 financially disadvantaged children and youths, between the ages of six and 19 years old, through a variety of programmes including a structured arts training programme, arts camps, workshops and signature events.
BT BAF supports two arts training centres, The Little Arts Academy and 10 Square Youth, and is managed by TRCL. www.baf.sg
The Straits Times School Pocket Money Fund (STSPMF)
The Straits Times School Pocket Money Fund (STSPMF) started in 2000 as a community project initiated by The Straits Times that provides pocket money to children from low-income families to help them through school. STSPMF was established as a Trust on 20 October 2010 and received charity status on 14 November 2011 with Institutions of a Public Character (IPC) status effective from 1 January 2012. It is governed by a Board of Trustees. Since the project's inception in 2000, STSPMF has helped more than 180,000 cases of children and youths from low-income families, between the ages of 7 to 21 years. Funds raised go towards school pocket money disbursements and support of the social and educational development of the children and youth. For more information, please visit spmf.org.sg.
TRCL
TRCL (The RICE Company Ltd) is a not-for-profit organisation and registered charity with IPC (Institutions of a Public Character) status. TRCL seeks to harness the potential of the arts to benefit under-served children and youths in the community. TRCL manages The Business Times Budding Artists Fund, arts training centres (The Little Arts Academy and 10 Square Youth) and two wholly-owned subsidiaries (Global Cultural Alliance Ltd and Millet Holdings Pte Ltd). For more information, visit trcl.sg.