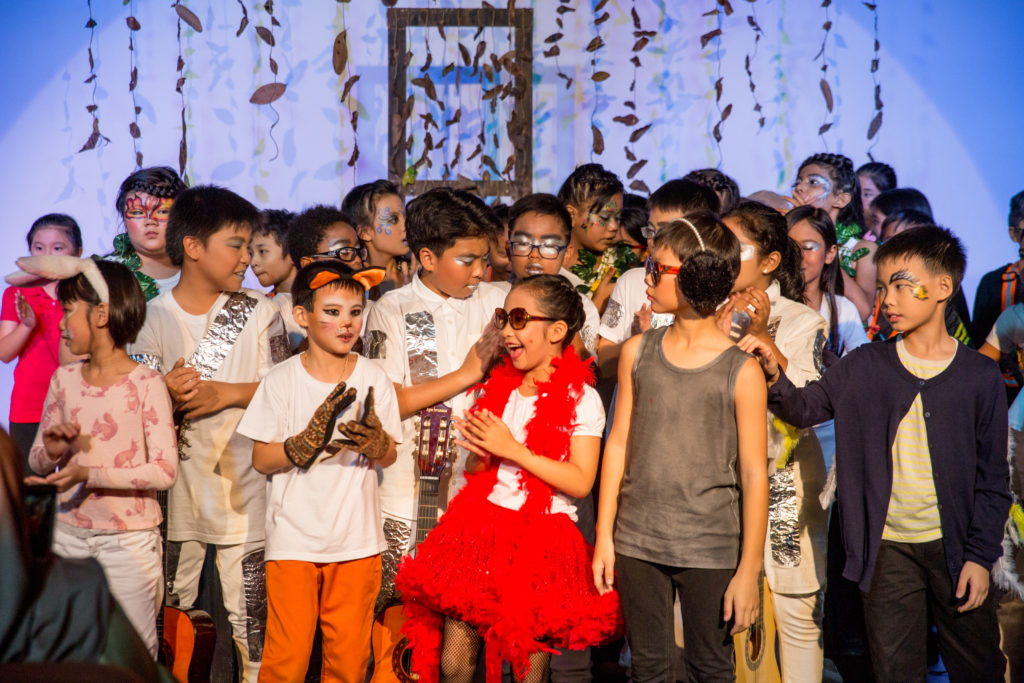 Initiated in 2004 and adopted by The Business Times in 2005, The Business Times Budding Artists Fund (BT BAF) originated from a conviction that no child should be denied the opportunity to pursue the arts to a lack of financial resources. BT BAF believes that the arts transforms lives and seeks to provide young people from financially-disadvantaged backgrounds with access and opportunities to experience the arts. Since 2005, BT BAF has reached out to more than 20,000 beneficiaries through a variety of programmes comprising of arts training, camps, workshops and signature events. Beneficiaries receive structured arts training at The Little Arts Academy and 10 Square @ Orchard Central.
Our Programmes (The Little Arts Academy & 10 Square Youth)
We offer opportunities for children and youth to receive training in five genres of the arts — Music, Dance, Theatre, Visual Arts, and Tech+Art [Digital Arts] — regardless of their personal or financial circumstances.
Arts Exposure Programme is a signature programme in The Little Arts Academy (LAA) and designed for children aged six to 12 years old to explore, experiment and experience the arts. This is a starting journey for the little ones to discover Music, Dance, Theatre and Visual Arts.
LAA offers systematic multidisciplinary arts training for children. The academy emphasizes the creation of original works, performance opportunities and development of personal and technical skills through the arts.
The Arts Incubation Programme is a specialized arts training curriculum designed for youths aged 13 to 19 to broaden their perspectives of the arts beyond the classroom and to gain real insights of the arts industry. The programme focuses on advanced technical arts skills as well as business management skills to provide youths with the many possibilities of a career in the arts.
The Arts Incubation Programme is part of the training by 10 Square Youth, which seeks to catalyse creative energy and inspire new progressive artworks amongst young people.
The #Engage Initiative
More than ever, the recent Covid-19 public health crisis in 2020 highlighted the social impact of the "digital divide." Through a collaboration with the Ministry of Education (MOE) during the Circuit Breaker period in May-June 2020, our #Engage initiative provided online engagement programmes for vulnerable children and youths within the safe environment of their schools. TRCL noted three gaps in society: a lack of access to digital devices among certain groups; a lack of digital literacy; a need for wholesome and original creative content.
With Phase 2 (Heightened Alert) restrictions in mid-2021, we launched #Engage 3.0, which saw us partnering with Zhenghua community to provide much needed positive distraction for primary school children in the Bukit Panjang area. The strict curbs on outdoor activity meant that children had to stay indoors throughout the June school holidays. More than 300 surprise craft packs and tasty packed lunches were delivered twice a week for four weeks to five student care centres in primary schools. These craft packs with do-it-yourself craft projects were a source of entertainment and helped engage the under-12s in creative activities during the four-week school holiday.
Called #Engage 1 & 2, this collaboration which saw the launch of a new online arts festival platform where students could showcase both visual and performing arts work to the wide community also highlighted how such programmes impart new skills, build positive values and confidence and provide a wholesome experience for children with vulnerable background.
The necessity of such initiatives was recently highlighted by President Halimah Yacob during the announcement of 2020's President's Challenge which is themed on building a digitally inclusive society. President Halimah noted that it was important for "social service agencies to really look at ways of giving access to our vulnerable communities, to the digital tools, to skills, to connectivity" as this was the only such communities could help remain economically and socially active.
To date plans articulated – such as those by MOE to provide digital devices to students – do not extend to vulnerable children from primary schools.
In this, #Engage by TRCL aims to build a digitally inclusive society through:
Providing digital devices for vulnerable children

Developing original arts and culture programmes which engender creativity, inspire the acquisition of new skills and impart wholesome values

Developing an annual online arts festival platform which showcases the creativity and voices of children and youth to the community.
With #Engage, children from vulnerable communities will be able to have:
their own access to digital devices

free access  to programme which will allow them to (a) be familiar with operating hardware and software and basic  (b) develop digital content (c) acquire future skills eg AR/VR coding, online production, editing and creative skills
#Engage aims to reach out to 300 children annually.